Our lovely filly Cusanu turns 4 on July 7.
She has recently completed her starting education, performed well on her first tests at a USDF/USEF dressage event, and is now ready to move on to her career as a show pony!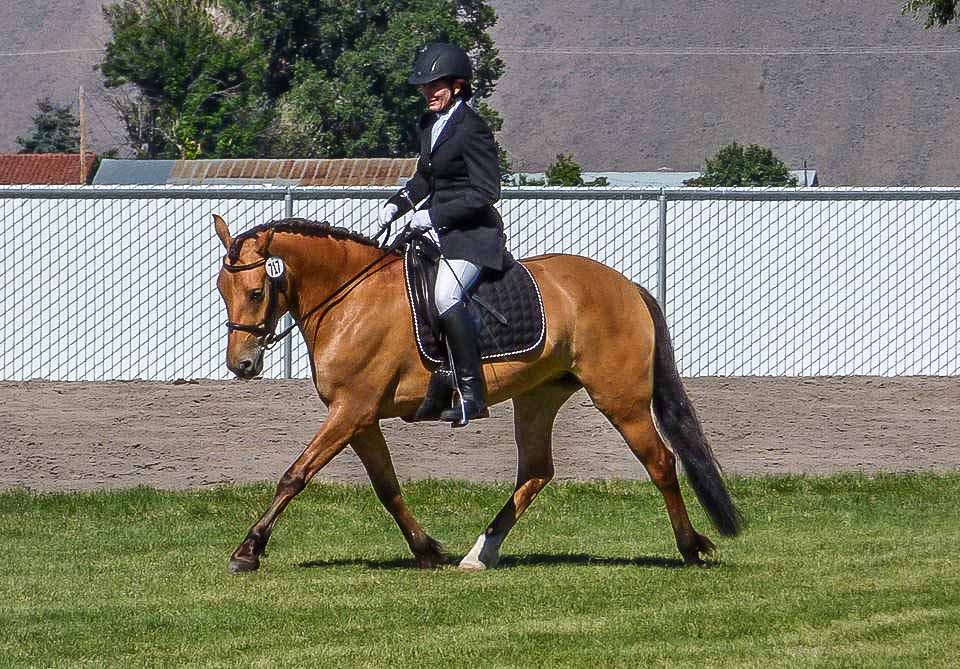 Cusanu (also known by her friends and family as Blondie) has been in Central Oregon in training with Kimry Jelen. We want to thank Kimry for the wonderful educational foundation she has provided to our dun filly.
This even-tempered youngster has practiced jumping, enjoyed mountain trail rides with llamas, and worked on her dressage skills. Her education has exposed her to a wide variety of environments, riders and situations, with the goal of producing a well-rounded, balanced personality. Everyone that meets this lovely pony notices how kind, even-tempered and unflappable she is — a real solid citizen.
Cusanu's scores at her first USDF/USEF rated show (Cascade Dressage I & II, June 25 & 26, 2016) were progressively better each time out. Her first day scores were: Training Level Test 1 — 62.174%, Training Level Test 2 — 65.962%. And on the second day: Training Level Test 1 — 68.478% and Training Level Test 2 — 71.539%.
Cusanu is back here at Silver Tail Farm, and we're excited to announce she is now being presented for sale! 
Here are some recent images of Cusanu from her first show, jumping, and during her starting training.
Cusanu is now back at Silver Tail Farm, and here are some photos taken at the end of June, 2016.