Our Breeding Philosophy
Our broodmares' genetic heritage springs from highly proven Westphalian dressage bloodlines. You may have seen our mares competing in Germany, Great Britain, or the United States.
When selecting a stallion to breed with a mare, we consider — in addition to bloodline — a complex of characteristics to determine the optimal blend of compatibility and complementarity: temperament, conformation, rideability, quality of gaits, athleticism, and character.
Our Rearing Philosophy
Silver Tail Farm strives to develop each of our foals into a healthy and willing partner for its prospective rider. To set a foundation for training, our foals are handled from birth. Our mares and foals stay together in pasture until the weaning process is completed.
Once weaned, our foals are gentled into a herd to encourage the natural socialization process. During this time, we continue to handle the foals and to introduce them to age-appropriate skills.
Our foals are then offered for sale, as individual maturity allows. Foals are available for purchase at any age.
Our Foundation Mares
Our breeding mares are Westphalian and their offspring are Westphalian, approved by and registered with the Westphalian Horse Breeding Association.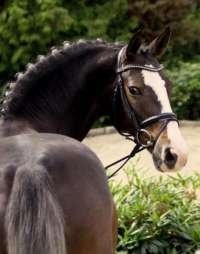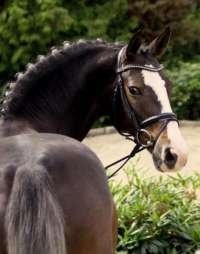 Riva Dee, born in May of 2000, is a one-of-a-kind mare. She stands 16 hands with a striking silver tail and flashy markings. Both her sire, Rheingau, and her dam, Pila, descend from superior sire and mare bloodlines. 
Phantasia-10, known familiarly as "Poppy," was born in January, 2002. Standing 16.1 hands, Poppy is an elegant Westphalian bay mare with superior movement and confirmation. Bred by highly respected German equine breeder Friederike Peters, Phantasia-10's bloodlines are exceptional. Her sire is Popocat, her dam, Weltania.