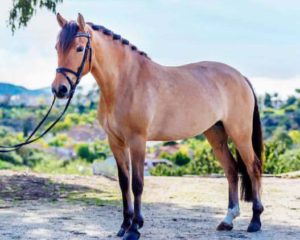 Cusanu — a 2012 Registered Half Welsh Cob Filly
Cusanu (aka, "Blondie") is a stunning dun filly who stands 14.2 hands. She's smart, kind, brave, willing, and obedient. And, wherever she goes, everyone is impressed with her charm. She's very athletic and her gaits are exceptional.
In August, 2015, Blondie moved to Sisters, Oregon to train with Kimry Jelen. There, she enjoys lush green pastures, new equine friends, and lots of snow, and she has begun her work under saddle. As of March 2016, Blondie is ponying other horses into the wilds through the high sagebrush deserts of central Oregon.
Sir Primo — a 2012 Registered Westphalian Gelding
Sir Primo (aka, "Primo"), is a brown Westphalian gelding.
We would like to congratulate Premier Equestrian and Heidi Zorn for the purchase of Sir Primo, aka "Sir Premiero"! They will remain in training with Nick Onoda Dressage at Seabreeze Farms, in San Diego. We thrilled about this new partnership and are excited about their future together!
Dhiaa — a 2013 Registered Westphalian Filly
Dhiaa is modern-type Westphalian filly. She's developing nicely — she's well socialized, kind, and a willing learner. Dhiaa's basic ground work is underway, and we hope to start her formal training in the fall of 2016.
We patiently and attentively develop each foal into a healthy, responsive partner.
Foals are offered for sale as individual maturity allows, but are available for purchase at any age or stage of development.