2000 Registered Westphalian Mare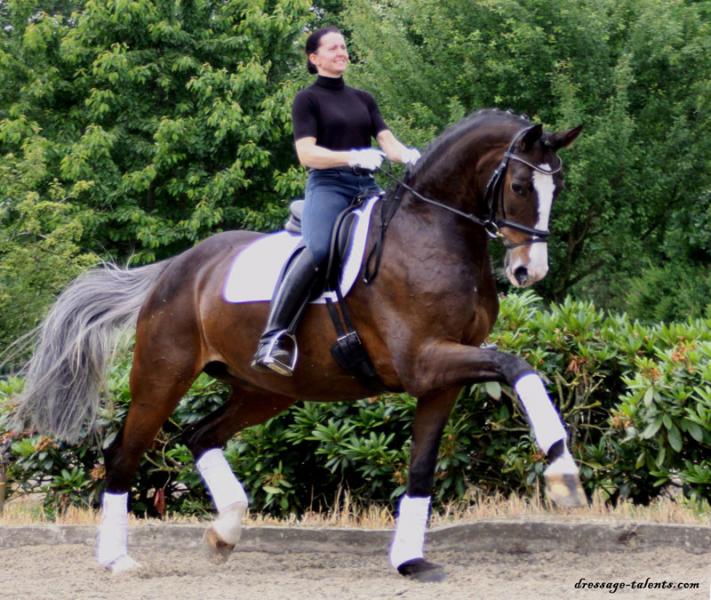 Riva Dee, born in May of 2000, is a one-of-a-kind mare. She stands 16 hands with a striking silver tail and flashy markings. Both her sire, Rheingau, and her dam, Pila, descend from superior sire and mare bloodlines. 
Riva Dee's sire, Rheingau, placed second at his stallion performance test. In 1999, he placed in the final dressage round for four-year-olds at the Bundeschapionate (the German National Championships for warmblood horses), and repeated that success as a five-year-old in 2000. 
The sire of Riva Dee's dam, Pila, is Potsdam. In 2002, Potsdam was the winner in highest-level dressage tournaments in Műnster, Neuműnster, Nörten-Harenberg, Redefin, and Rulle. He has an approved son in standing as a state stallion in North Rhine-Westphalian State Stud Warendorf.  Pila's grand sire is none other than the North-Rhine-Westphalian state stallion Polydor. Polydor was twice honored with the title "Sire of the World," the world's best transmitter for showjumpers.
Among Riva Dee's accomplishments: 
2014 IDR with Emily Park, CDI Jr 2011-2013

Competed with Emily Park In Region 6 and Region 7

2007 FEI World Para Equestrian Dressage Championships, Hartpury, UK

Qualifying Candian para-athlete for the Paralympic Games in 2008.

2006  Owner/breeder Andrea Lange – competed successfully with this mare.
Riva Dee has produced three lovely offspring:
2012 registered Westphalian colt, Sir Primo, by Sir Sinclair (Lord Sinclair I x Krishna x Flemmingh) via embryo transfer 
2013 registered Westphalian filly, Dhiaa, by Don Principe (Elite Donnerhall x St Pr Papagena x Prince Thatch) via embryo transfer 
2015 registered Westphalian filly, Delilah, by Diamond Stud (Diamond Hit x Lavarino x Rhodiamant) via embryo transfer 

 
Last year, Riva Dee was bred to DeNiro; she's expected to foal in late May, 2016.
Name: Riva Dee
Sex: Mare
Color: Brown
Date of Birth: May 23, 2000
Breed: Westphalian
Studbook (Stutbuch) Registrations: Stutbuch I des Westfalischen Pferdestammbuches e. V. (Im Jahre 2003 eine Pramie in Form einer Goldenen Medaille erhalten); Oldenburg Registry N.A. — Main Mare Book
Breeder: Ranier and Andrea Lange
Brand:
Brand Number: 58
Microchip: Yes
Sire: LDB. Rheingau
Dam: Hauptstutbuch Pila
Riva Dee
Sire: LDB. Rheingau

Grandsire: Rheinblick

Great Grandsire: Romadour II

Great Grandam: Hauptstutbuch Ursulinerin

Grandam: Verb.Pr.St. Stutbuch Mascha

Great Grandsire: LP Matcho AA

Great Grandam: Hauptstutbuch Godiva

Dam: Haupstutbuch Pila

Grandsire: Potsdam

Great Grandsire: Polydor

Great Grandam: Verb.Pr.St. Hauptstutbuch Godoleva

Grandam: Haupstutbuch Ehrfurcht

Great Grandsire: Einblick

Great Grandam: Hauptstutbuch Dolde